Jobsite description
The new Nantes railway station, known as the "Heart of gare operation", designed by architect Rudy Ricciotti, results in the creation of a 10 meters hight mezzanine above the existing rail tracks and the redevelopment of the north and south passenger buildings of the old station. The structure evokes a plant universe, inspired by organic shapes. The mezzanine roof is supported by pillars of arborescent shapes, and completed by a a honeycomb roof reminiscent of the canopy.
CHRYSO expertise
The walkway is supported by 18 giant piers of high-performance concrete, whose organic form resembles rooted trunks. These were prefabricated on site using formwork weighing nearly 15 tonnes, specially designed for this project. The pillars were poured with a white self-compacting concrete. Each pillar is rotated at an angle of 20° to the previous one to give the impression that these pillars are never the same.
In the mezzanine, metal tripods have been covered with a trellis to give the structure the appearance of a tree. Concrete was sprayed and then modeled and sculpted. Finally, the walls of the mezzanine are protected from bad weather by very finely decorated UHPFRC shades.
PRODUCTS USED
CHRYSO®Equalis 250
CHRYSO®Optima 185
Project technical challenges
One of the main challenges of this project was the pouring of the 18 white concrete pillars, thanks to a tailor-made self-compacting concrete mix-design. Each pile consists of 27m3 of concrete.
Concrete was pumped from outside the station, so as not to obstruct train traffic, then injected under the formwork, via an underground passage, to gradually fill the metal molds. Most of the casting was done at night, and required a long 3 hour workability hold to avoid any risk of obstruction of the pipes during casting.
CHRYSO anwsered to this technical challenge by developping a specific concrete mix design, white self-consolidating concrete of resistance class C45 / 55 with color homgeneity and a smooth surface allowing the development of a white self-consolidating concrete of resistance class C45 / 55, while presenting a homogeneity of color and a smooth surface after stripping.
---
Project participants
CONTRACTOR: SNCF Gares & Connexions
GENERAL COMPANY: Demathieu Bard Construction
ARCHITECT: Rudy Ricciotti
ASSOCIATE ARCHITECT: Forma6
RMX: LafargeHolcim France
TECHNICAL STUDIES OFFICE: Lring
TECHNICAL DESIGN OFFICE: Berim
EXECUTING CONTRACTOR: Demathieu Bard Construction
---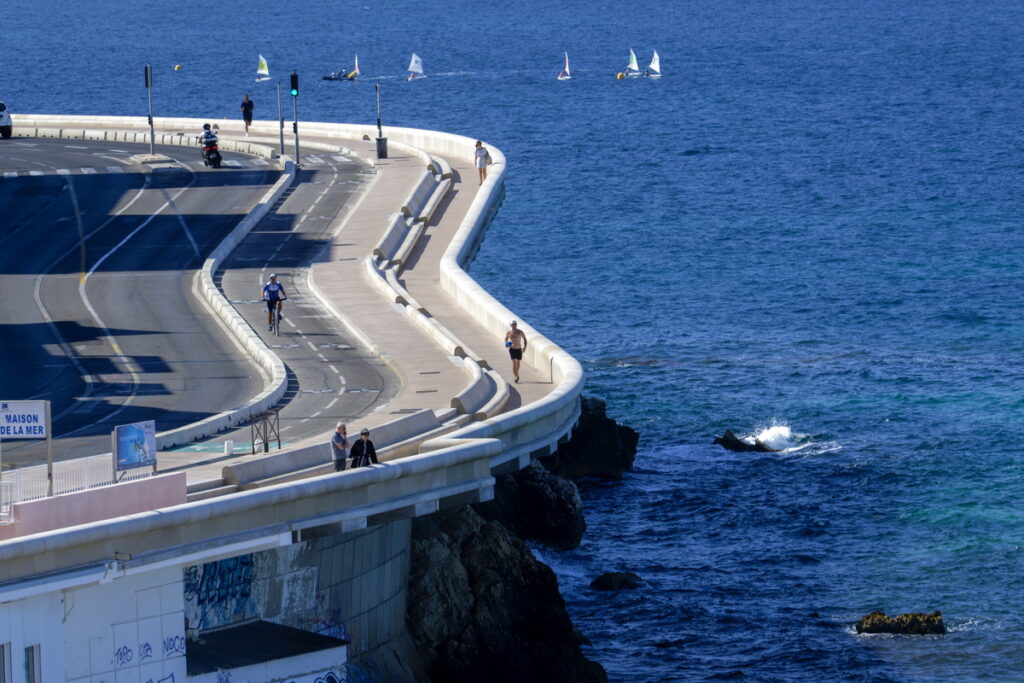 City infrastructure
Corniche Kennedy
The Corniche Kennedy bench in Marseille is 3 km long, between the Fausse-Monnaie bridge and the Sofitel Palm Beach hotel, making it the longest bench in the world.
Marseille, France
View reference
Corniche Kennedy

Real Estate
THE OUTPOST AL BARARI
The Outpost Al Barari project, located in Sealine, Mesaieed, Qatar, is an awe-inspiring desert retreat that embraces the essence of Qatar's natural environment and cultural heritage.
Mesaieed, Qatar
View reference
THE OUTPOST AL BARARI