Jobsite description
This offshore viaduct is built 70 meters from the coast.
It will stretch along the northwest coast of Reunion Island and will connect the island's main city to the commercial port.
CHRYSO expertise
The Coastal Road, on Reunion Island, is a large-scale project, this impressive road on the sea is associated with many technical challenges.
This 12,5 km new coastal highway comprises three main parts:
One Interchange and many dykes
The Coastal Viaduct of 5,4 km which rises 20 to 30 meters above sea level
The Grand-Chaloupe Viaduct. The slightly curved deck is made up of XS3 environmental exposure class concrete, with added silica fume.
CHRYSO uses a combination of admixtures which provides unrivalled performance in terms of robustness, workability retention, pumping and durability for this major construction site.
PRODUCTS USED
Superplasticizers : CHRYSO®Fluid Optima 145 ; CHRYSO®Fluid Optima 100
Plasticizers : CHRYSO®Plast GTO EMx
Demolding agents : CHRYSO®Dem Oleo 62 – DPS ; CHRYSO®Dem Bio 15 – DBV
Project technical challenges
CHRYSO meets requirements through its EnviroMix® approach, particularly, in terms of deflocculation and viscosity control.
Concrete fluidity is maintained despite a relatively low water / cement ratio and a high rate of binder in the concrete.
CHRYSO demonstrates that this specific concrete mix design allow to answer challenging requirements, as durability guarantees : structure's specification is 120 years service life.
CHRYSO conducted several specific durability performance trials in laboratory to meet project specifications and to optimize the formulation of concrete CHRYSO technical experts provided solutions in connection with the performance-based approach and defined with the customer recommendations on formulations and adequate admixtures solutions.
---
Project participants
Owner: La Réunion Overseas Department
Consortium of partners: VINCI Construction, BOUYGUES TP, DODIN Campenon Bernard, DEMATHIEU et Bard
---
City infrastructure
Porte Bleue
At the heart of the large-scale Euroméditerranée project in Marseille lies the Porte Bleue, an exceptional development comprising four separate buildings housing offices, homes and shops.
Marseille, France
View reference
Porte Bleue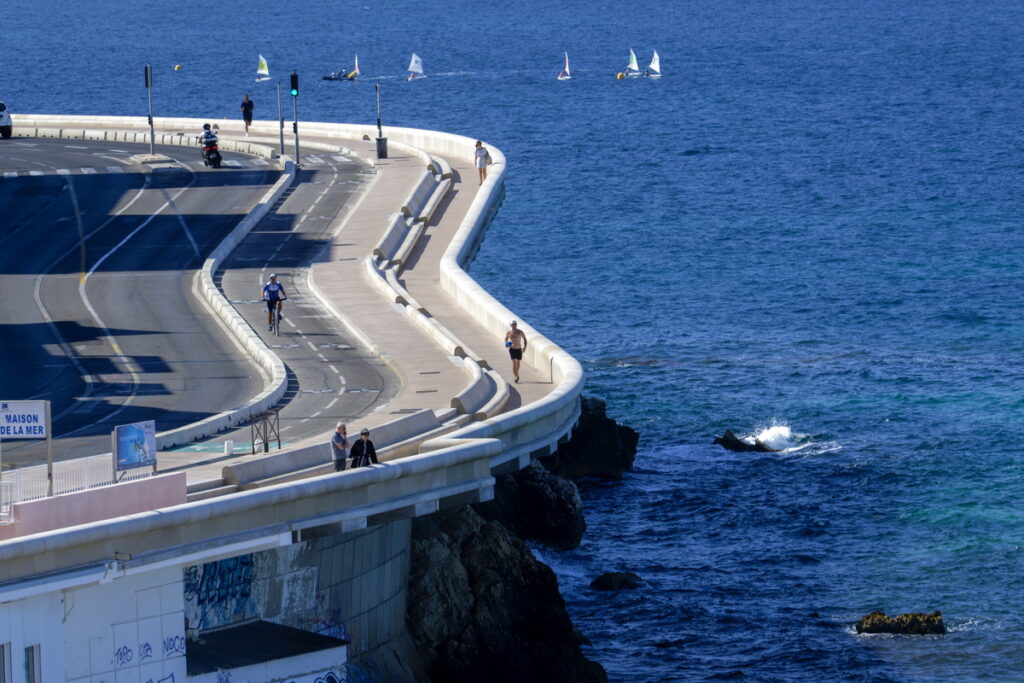 City infrastructure
Corniche Kennedy
The Corniche Kennedy bench in Marseille is 3 km long, between the Fausse-Monnaie bridge and the Sofitel Palm Beach hotel, making it the longest bench in the world.
Marseille, France
View reference
Corniche Kennedy