Jobsite description
Located in the Philani Valley in Umlazi (South Africa), the eZimbokodweni River Bridge was designed with the aim of securing the night crossing of the river below. Before its construction, the inhabitants and the wild flora then faced many problems due to the darkness – wild pollution – illegal exploitation of sands – risk of falling – criminality.
The municipality of eThekwini then launched a call for projects for the construction of a new pedestrian bridge, to which the engineering company Naidu Consulting responded by designing a bridge that becomes luminescent at nightfall, a first in Africa!
The project won 1st prize in the prestigious CESA AON ENGINEERING EXCELLENCE AWARDS 2020 competition in the category Projects valued at <50 Million Rands.
CHRYSO expertise
For this construction, designers and engineers were able to rely on CHRYSO's know-how and innovation, through its LuminTech®technology.
The bridge is 160 meters long and composed of 6 prestressed concrete spans.
Luminescent powder CHRYSO®Lumin SP have been infused into the top layer of the concrete and the process did not compromise the integrity of the polymer concrete that was used.
The path leading to the bridge was made of exposed aggregate concrete, using luminescent CHRYSO®Lumin P+ Jade aggregates.
The luminescence of the bridge thanks to this technology thus made it possible to reduce the operating costs of the structure compared to traditional lighting while improving the ecological footprint of the project: alternative to electricity, LuminTech® uses natural radiation of the sun to restore it at night.
PRODUCTS USED
Luminescent powder: CHRYSO®Lumin SP
Luminescent particles: CHRYSO®Lumin P+ Jade
Project technical challenges
The use of LuminTech® luminescent powders, infused into the top layer of the concrete, and luminescent particles on exposed aggregate concrete paths, made this innovative project a reality, without affecting the characteristics of the structure.
The project's ecological and economic footprint is also improved compared to traditional lighting.
---
Project participants
Client: Thekwini Municipality, Water and Sanitation Unit
Consulting Engineer: Naidu Consulting
Contractor: Afrostructures
Sub-contractor: ResocreteComposites
---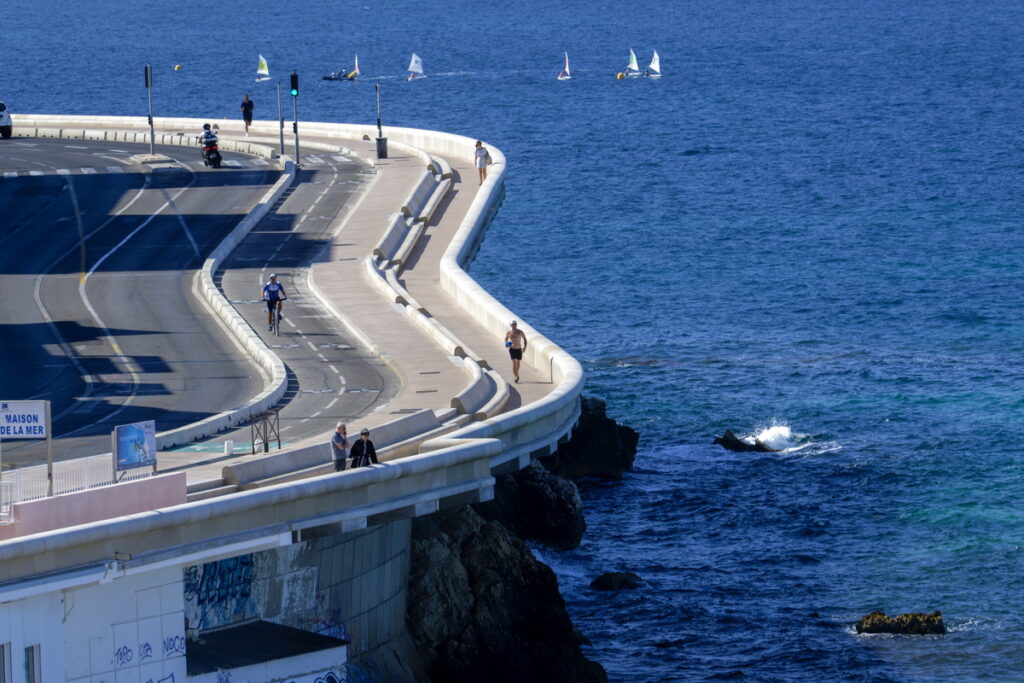 City infrastructure
Corniche Kennedy
The Corniche Kennedy bench in Marseille is 3 km long, between the Fausse-Monnaie bridge and the Sofitel Palm Beach hotel, making it the longest bench in the world.
Marseille, France
View reference
Corniche Kennedy

Real Estate
THE OUTPOST AL BARARI
The Outpost Al Barari project, located in Sealine, Mesaieed, Qatar, is an awe-inspiring desert retreat that embraces the essence of Qatar's natural environment and cultural heritage.
Mesaieed, Qatar
View reference
THE OUTPOST AL BARARI